A well-designed and easy-to-use web app will encourage visitors to stay on it for a long time and may even reach out to you as well. If your web app is slow to load or doesn't look presentable on mobile devices or PC, the visitors won't think twice about clicking the "X" button.
This is the actual scenario of every digital platform. So, how can you create a web app that will appeal to your audience? Unless you have a team with the required experience and enough time to work on it themselves, it makes more sense to outsource the work.
No matter what kind of industry you are in, website development services can do wonders and help you grow your business if you pick the right person for the job. So in this blog post, We'll tell you why you should choose a web developer and give you some tips on website development services.
What Is Website Design & Development?

Website Design & Development is the process of designing, developing, and maintaining a website. Essentially, the difference between web development and website design is that the designer in website designing designs the user interface of the website.
Facing web designers work with web developers to incorporate web page design into the web development process. The design of your website, which may either make or ruin your business, the website development process defines the functionality, applicability, and general functioning of your website.
When it comes to your target audience's perception of your business or organisation, it may make a significant difference in whether or not they become consumers. A user-friendly user interface on a website will result in a considerably greater conversion rate, which will translate into more business and profits.
What Are Website Development Services?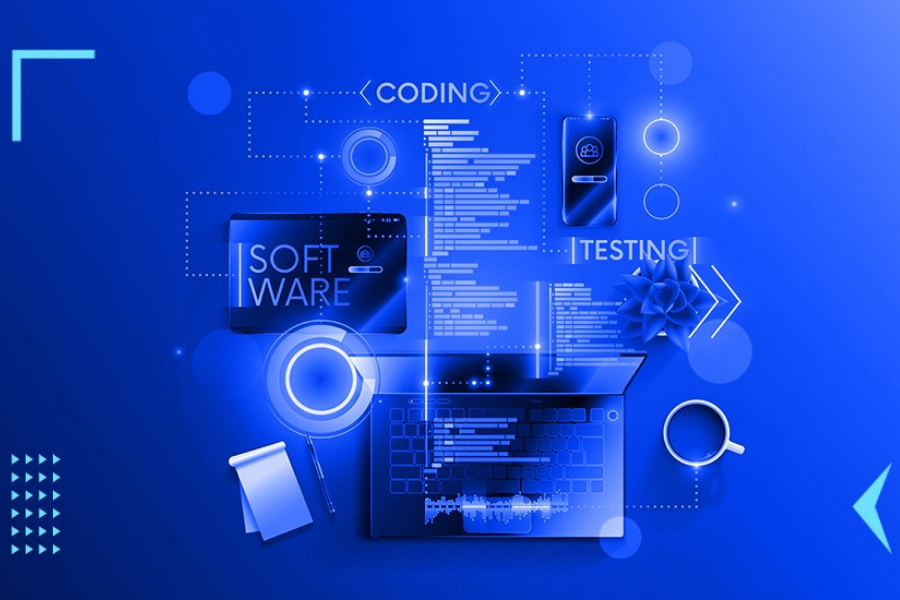 Web development services involve everything related to building a web-based solution – whether it is a simple text page or a complex web application. Many people think of "website development services" as just using a variety of programming languages to create the web app code and put everything together.
But web developers can help with many other tasks, from web design, content creation, scripting language, and SEO to web app maintenance, troubleshooting, and security measures. All to make sure the web app or another development project works as it should.
Why Should You Choose Website Development Services?

We as humans like convenient things – nothing is more convenient than gaining access to all kinds of information by pressing a button. When it comes to booking a service or reserving a place online, the first thing most people do is check out the recommended websites on the net as well.
If they can't find your product or service while they do their research, you are clearly out of their sight, and you don't exist for them, even if you offer what they want. It is where having a web app becomes extremely important. Through it, you can reach millions of internet users and convince them that your product is relevant to their needs or even necessary for them to own.
Having just a "good" web app can not help you break through the clutter and convert users into loyal customers. What you need is an "outstanding" web app.
Outstanding meaning:
Visually appealing, polished, and professional

Intuitive to use

Optimised for mobile devices and search engines

With easily accessible contact information

Matching the current trends

Regularly checked for any broken links or not working scripts.
Building a web app is not an easy task, even with all the templates available online. You want a web app personalised to your business goals and having all the required features.
Then you should contact a website development service. Why?
You'll work with developers who are not only good at creating web apps that last but also know a lot about business strategy, usability, user experience, responsive design, and design strategy. Utilising that knowledge, they can plan, design, and build web apps. Which will be based on what you want to achieve and what your users need.
By working with web development services, you can also apply original design trends for your new web app that will set your business apart from the competition. But there's one more important benefit.
When hiring a web developer, you know you won't be left alone after the project is completed. Almost all companies that offer website development services also provide regular maintenance and troubleshooting services for their clients, so you can be sure they will keep your site current and running smoothly.
Website Development Services Contribute To The Growth Of Businesses. How?

The website development services make the market potential for new businesses and come up with the functionality of robust websites that pull the crowd.
Let's discuss some of the roles that web developers play:
These professionals study the requirements and build the code. In the process, they optimise the business value of the client firms and offer alternative solutions.
High-quality websites offer sophisticated appeal. It has an impact on the process of gaining customers. To get better navigation and accessibility, you should complement their efforts on browsing.
Web developers also cooperate with their customers even after the launch of their websites. They provide post-maintenance services and after-sales support to help business firms retain the consistency of their services.
For specific projects, particular tools for web page development might be necessary. Web developers identify these requirements and, in the process, cut down development costs and time.
Collaborating with reputed web developers at an early stage can help business firms save a lot of money in their later days.
Read More:
3 Basic Things To Know Before You Become A Programmer
Unlock the Potential of Your Website with CMS Development Services
Website Development Services Make Your Business Profitable

With the advent of new technology, it is quite easy to miss out on major opportunities. The situation is even worse when no one knows this technology. Well, few businesses have some limited knowledge of website design and development. Here Below are the benefits of web design and development For you:
Saving on costs

It should recall that website design and development is a reasonably priced service. The cost-saving component of the website extends to the long-term benefits that the website will offer to the company. Furthermore, the website decreases the time and effort required to reach out to clients in person.

If one were to meet with potential consumers personally, it would be time-consuming and resource-intensive. It is at this point that website development services come into play. Greater importantly, by reducing such additional expenditures, the company can generate more profit.

Allowing Advertisements on the Website

Many business or company owners may have come across numerous ads on various websites at some point in their careers. This is one of the most comprehensive methods of increasing a company's profit margin. If your website receives more traffic and attracts more prospective clients. It is more likely that other organisations and businesses may contact you about running their advertisements on your website.

If you want to use the advertisements as part of your marketing and advertising activities, the host site will charge fees for them. Inevitably, developing a unique and well-known website results in a natural byproduct of this process. By focusing on this, the website development services service will put the site at the forefront of the public's notice and increase traffic.

E-commerce

As previously stated, services and precuts previously provided by retailers have been relocated to online platforms and websites. In addition, one of the most significant internet venues is the company website.

Many shopping and other sales items and services have joined the online business due to the website development, which places the business close to the clients while allowing them to buy at their leisure. Flipkart, Amazon, and other e-commerce platforms are some of the best instances of this.
How Do You Choose A Web Developer?

You could start looking for web developers right away, but with the countless website development services, you might become overwhelmed. You could have even gotten more options to pick from. If you consider hiring someone from a different country or continent. So how to not get lost in all of this?
To choose wisely, you should first understand what you need rather than attempting to read through and sort all offers you find. Here are a few tips on how you can make the right decision.
Specify what you want to do – Are you looking to build a simple webpage with your contact information? Or do you want to make something with certain functionality? This step is crucial since it determines which skills your developers should have and what technology they will use.
Note down your ideas for design – The more specific your design requirements trends, the easier it would be for the developers to give you what you want. To start, you could draw something to show (even the simplest) direction you would like the design to go or make a list of web app designs you like.
Define your budget – There is no industry standard pricing for how much a web app should cost, so it is essential to know your upper limit. You might be tempted to choose the cheapest option, but then you could end up paying twice as much money later to fix a buggy or non-functional web app.
Look at hiring sites or review sites to look for website development services – Sites like CodesAmour are excellent places to start your research. Besides detailed information about a developer or company, you can learn more about their skills and services and read client testimonials.
Check the website development services portfolio – Taking a look at a company's portfolio will give you a lot of insight into how they work.

You'll be able to see if they have experience in your industry and if they do. Examples of websites or custom web applications they've developed for companies like yours.

But even if they don't have much experience with your industry, through a portfolio, you can see if you like their design style enough to reach out to them.
Read client testimonials – You can determine whether a company will provide quality services based on client testimonials and reviews, as businesses with many testimonials tend to offer high-quality services.
Reach out to chosen companies with a web app brief to ask for a project estimate – Handing them a list of your requirements will help website development services and web programmers understand the functionality of your web app and your expectations about post-launch support. Additionally, they will be able to roughly estimate the time and cost of the entire project, as they will know what exactly you expect from them.
ENDING…

After discussing the in-depth importance of the website, you might get an idea of why a website is most important for your business and how it works.
Hence, if you want the best results, hire the best website development services which could grow your business to the next level.