In today's fast-paced digital age, businesses need to meet their customers where they are on their mobile devices. With the proliferation of smartphones and tablets, mobile apps have become a powerful tool for engaging with customers and building brand loyalty. In this blog post, we'll explore five key ways to help businesses benefit from mobile app development.
Firstly, mobile applications allow businesses to offer a personalised experience to their customers, improving engagement & retention. Secondly, apps can help increase brand recognition by incorporating branding elements into the app design. Thirdly, such apps can provide a seamless and convenient user experience, improving customer service and satisfaction. Fourthly, it can provide valuable insights into customer behaviour and preferences, allowing businesses to refine their marketing strategy. And finally, provide new revenue streams for businesses, such as in-app purchases and subscriptions.
We'll dive into the benefits in more detail, exploring real-world examples and best practices for app development. Whether you're a small business owner or a large corporation, a mobile app development company can help you stay ahead of the competition and connect with your customers- in meaningful ways.

Click the Play Button to Listen to this Article

What is the Current Digital Landscape of Mobile App Development?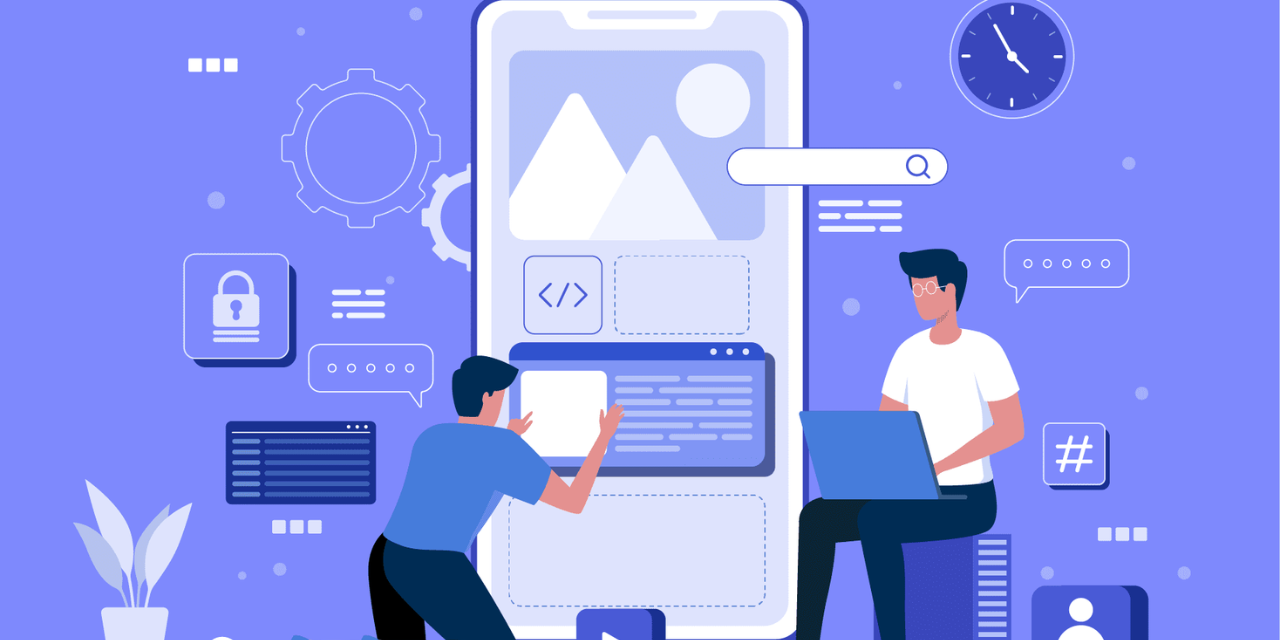 In 2023, the digital landscape of mobile app development is more dynamic and innovative than in the past. You should use emerging technology, such as artificial intelligence, machine learning, and blockchain, which will increase, leading to more sophisticated and personalized mobile apps.
The focus on user privacy and data security shall intensify, leading to stricter regulations and compliance requirements. With the proliferation of 5G networks, mobile apps shall become even more immersive and interactive, with faster loading times and better performance.
Overall, mobile app development shall remain a crucial aspect of modern businesses, with new and exciting opportunities for innovation and growth. App development can help you streamline business operations and increase efficiency.
By harnessing the power of app development, companies can stay ahead of the curve and provide their customers with a seamless and engaging experience, ultimately leading to increased growth and profitability. Let's understand it with a use case.
Mobile App Development – Use Case
Picture yourself as a business owner struggling to engage with your customers and stand out in a crowded marketplace. You know how to reach your customers on their mobile devices. But do you need help figuring out where to start? Then you should invest in mobile app development.
With your app- you can offer personalized promotions, & send push notifications to keep your customers engaged and provide a seamless user experience. You can also gather valuable data on your customers' behaviour and preferences, allowing you to refine your marketing strategy and improve customer satisfaction.
As a result, your business grows, your revenue increases, and you become a pioneer in the Android app development and iOS app development industry. Let's understand the benefits of application development.
5 Ways You Will Benefit From Mobile App Development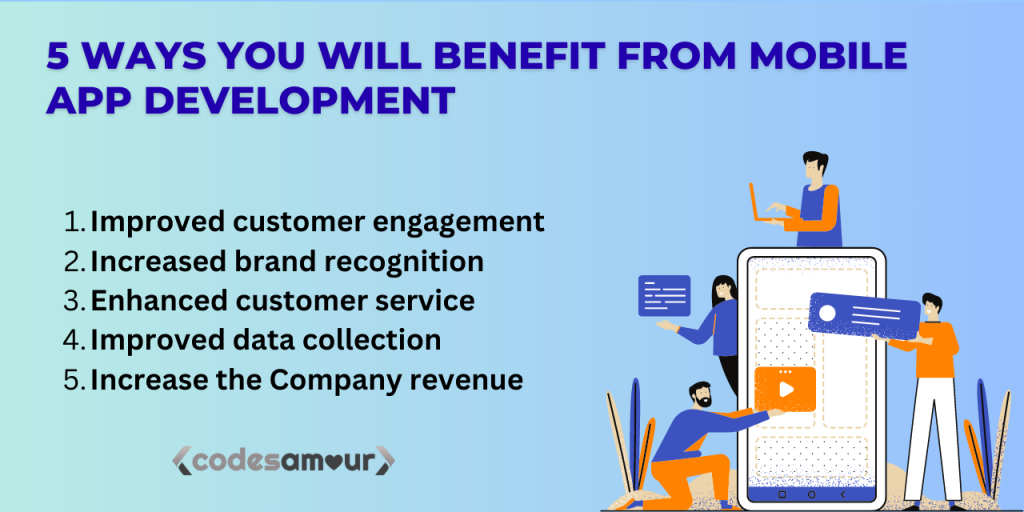 App development has opened up a world of possibilities for businesses and individuals alike. Whether you're looking to build a cross-platform app development or iPhone apps, the benefits of app development are endless. Don't miss out on these:
Improved customer engagement


The app development allows businesses to directly engage with their customers, providing them with a personalized experience. The mobile apps send targeted notifications, offer exclusive discounts, and provide access to loyalty programs to boost customer engagement and retention.



Increased brand recognition


Mobile apps can help you increase brand recognition by providing a platform for businesses to showcase their products and services. By incorporating branding elements such as logos, colours, and slogans into the app design, a business- for boosting brand awareness.



Enhanced customer service


Mobile apps can provide customers with a seamless and convenient experience, allowing them to access information and services quickly and easily. For example, an Android app development company can offer in-app support and chatbots to help customers with their queries, reducing response times and improving customer satisfaction.



Improved Data Collection



Mobile apps can collect valuable data about the customer- such as their preferences, behaviour, and usage patterns. Such data helps in business decisions, product development, marketing strategies, and customer service improvements.



Increase the Company Revenue



Android application development can help you increase revenue by providing businesses with new revenue streams. For example, the industry monetized its app by offering in-app purchases, subscriptions, or advertising. Mobile apps can also boost sales by making it easier for customers to purchase products and services and providing personalized recommendations and discounts.

Application development is a game-changer for businesses looking to reach their customers on the go. Here are some of the additional benefits of getting a mobile application development that can add value to your brand:


Drive Sales


The benefit of having a mobile application is that it drives sales to your business. A mobile app can help establish a stronger connection between your business and its customer, leading to increased customer loyalty and driving sales.



Promote Personalization


When you offer personalization based on gender, age, job, location, interest, the peak time of watching, preferred episode, and purchase history can tell a lot about a customer. Such information sells them a product.



Reduce costs on marketing and advertising


You need to build your application strategically, address customer problems, offer impressive design, and easy navigation, protect users' information, load information faster and be compatible with iOS for iPhone app development and also compatible with Android.



Connect with customers directly



To increase the trust of your customers, connect with your customers to collect feedback on your application, service, and experience.


Stay ahead of the competition



You need to get ahead of your competitors and study and make changes that work for your business. Learn from your competitors, stay ahead & avoid repeating mistakes that could ruin your business later.



Access Helpful customer data



You can also access customer data to create a better user experience. To access the customer data, you need to use an analytic tool to get vital information- the number of monthly users, demographics, downloads, and uninstall for a certain period.
Read More
12 Core Reasons to Hire Dedicated Mobile App Developers
Quick Guide To Hire iOS Developers In 2023
Let Us Conclude
In conclusion, mobile app development has become a vital aspect of a business. Its revolutionised how we interact with technology? To make our lives more convenient, efficient, and enjoyable, you need to know the benefits of application development. 
From increased revenue and improved customer engagement to streamlined operations and enhanced productivity, mobile apps have proven to be a game changer for businesses of all sizes.

Additionally, mobile apps provide users with a personalised experience, allowing them to access services and products- from anywhere at any time. With the constant evolution of technology, app development will continue to provide businesses with new and innovative ways to reach their target audience and provide value to their customers.

As a result, investing in various app development has become primary for businesses that want to stay competitive in today's digital landscape. Therefore, the company should adopt the power of mobile app development and leverage its benefits to propel its growth and success.